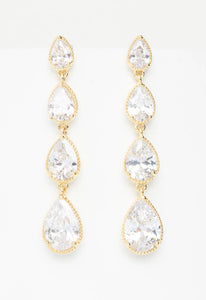 Drops of Elegance Gold and Zircon Earrings
Regular price $44.00 Sale
A stunning and enchanting accessory designed to adorn brides, bridal party members, and those seeking a touch of sophistication for festive and formal events.
You'll embody the essence of timeless beauty and grace in the four teardrop-shaped crystals that gracefully increase in size from top to bottom.
Each crystal, meticulously set in radiant gold, captures the light and sparkles with unparalleled brilliance, adding a touch of magic to your ensemble. Box size and color may vary.
Gold plated brass with zircon earrings.
Hypoallergenic; lead and cadmium free with nickel content less than 100 ppm.
Approx. 1.65 inches