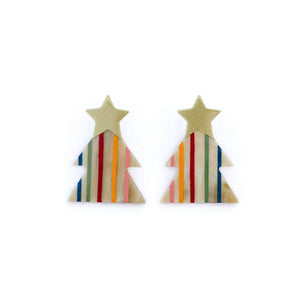 Rainbow Christmas Tree Earring
Regular price $48.00 Sale
We love a good colorful stripe!  The milky white buffalo horn mixed with colorful stripes is such a fun play on a Christmas Tree! These conversation starters are sure to dazzle at your next Holiday Party! Color:  
Multi-Color and White 2" x 1 1/2" Lightweight Buffalo horn; Stainless Steel ear post
While all horn is very similar in appearance, no two are exactly the same. This guarantees the uniqueness of each piece and ensures your amazing jewelry is truly one of a kind! The horn for this piece is sourced via traditional cultural methods from Vietnamese Water Buffalo.  The animals are not harmed in any way.